The Great Molasses Flood: Boston, 1919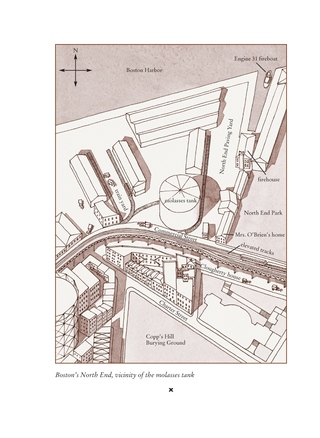 It was a hopeful time in Boston. The worst of the Spanish influenza was over, World War I had just ended and Babe Ruth had helped the Red Sox win the World Series the previous fall. But on January 15, 1919, in Boston's North End, on a sunny, warm day, the molasses tank in the neighborhood blew. More than 2,300,000 gallons of molasses, weighing 13,000 tons, flowed down the street, uplifting houses, twisting railroad tracks and killing 21 people. Fallen elevated train tracks, dead horses, collapsed buildings and crushed cars made the areas look as though a tornado had come through. The smell of molasses in the neighborhood didn't fade until 1995, though the memory of the event has. Using firsthand testimony from the 40-volume transcript from Dorr v. U.S. Industrial Alcohol, the hearings that followed the event, Kops has done a fine job of resurrecting the story and recreating the day through third-person stories of the actual players. . . . A fascinating account of a truly bizarre disaster.
This briskly paced recounting of the disaster focuses on the human element—the people involved, their lives disrupted and never the same thereafter. Covering not only the Molasses Flood, but the impact of Prohibition on businesses and the anarchist movement, the engaging narrative paints a very different picture of the Roaring Twenties than is typical. Of special interest, given the current national obsession with terrorism, is the number of deadly explosions set off by anarchists along the Eastern seaboard between 1919 and 1923.
From the Bulletin of the Center for Children's Books
A strong choice for reluctant or struggling readers. Streamlined presentation does not, however, imply simplified content. Indeed, Kops handily guides readers through a thoughtful discussion of how the fear of anarchist activity following World War I led many to believe that the tank was bombed. . . .
From a review in SLJ's Fuse# 8
THE GREAT MOLASSES FLOOD answers every question a person might have about that infamous moment in history, and does so with compassion and accuracy (two qualities all authors, adult, children, and what have you, should strive to achieve).

--Elizabeth Bird